I had just finished adding a new mod to my ECB (an adjustable damper for the bottom air inlet hole) and found that my local supermarket had Picnic on sale (for $0.99/lb). It sounded like a good way to test the ECB and see if the mod gave me better temperature control.
This is the installed damper, at a half-closed position (it was just a strip of thick aluminum sheet metal, with a simple wooden handle at the end and a single screw pivot point):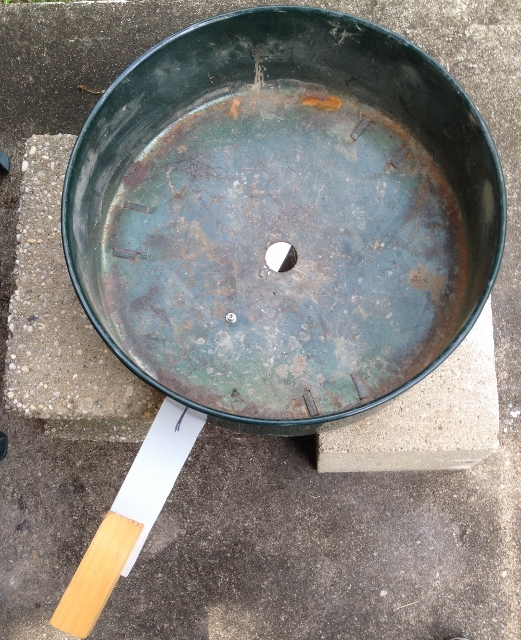 My previous mod was adding a coal grate to the coal pan: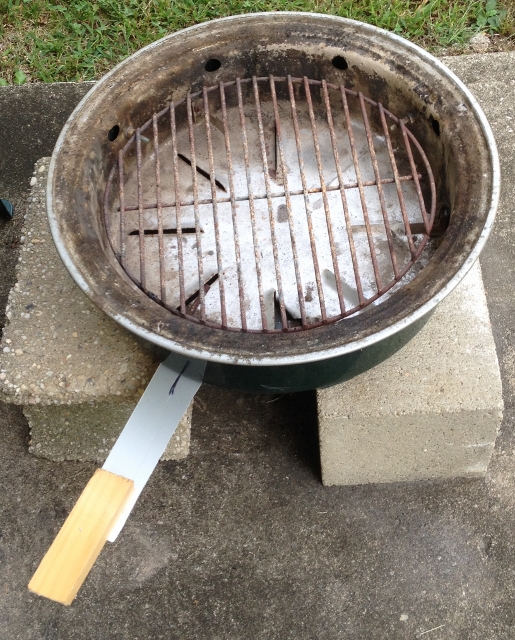 To keep track of temperature during long smoking times, I have a temperature sensor connected to an old netbook PC that I can view wirelessly from inside the house (it's a good use of an "obsolete" PC):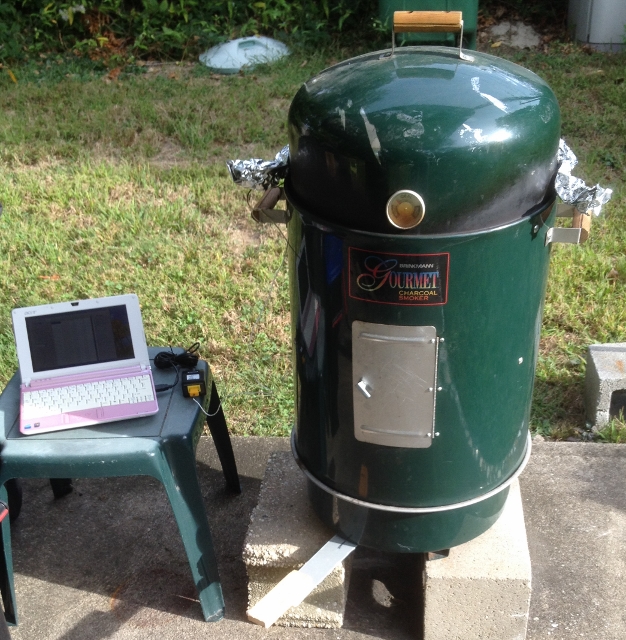 Here's the Picnic (all 8-1/2 lbs of it) at start of the cook (we just gave it a dry rub):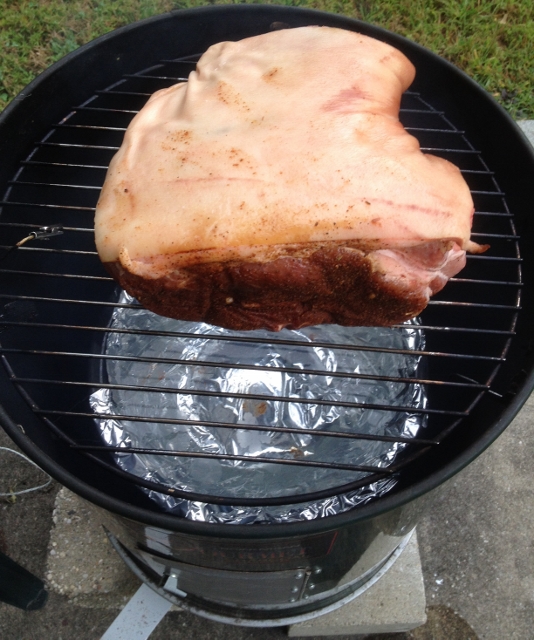 I have a question about Picnics: do most folks remove the skin & part of the fat cap before cooking it? I left if on, but wondered if it was just "dead weight", lengthening the cook time?
Anyway, I used a Minion approach to the coals: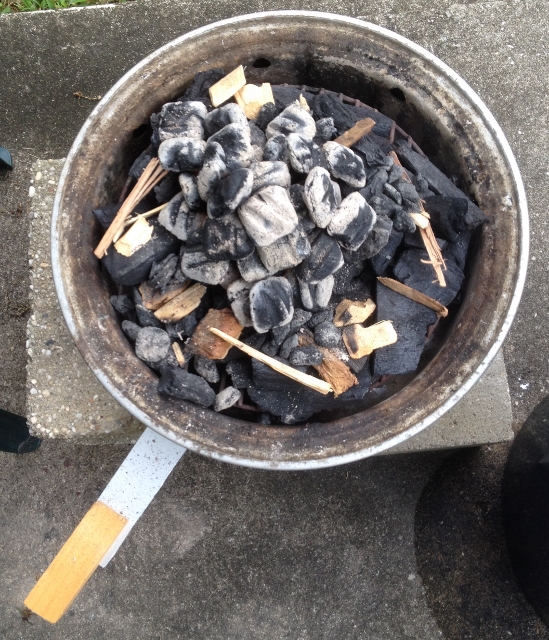 The bottom damper worked fairly well. The temp at the top, food grate didn't spike much above 300 deg with hot coals and I was able to keep the temp in the range of 250 - 275 deg much of the time. I did find my markings on the outside of ECB for damper open & closed were a bit hard to see and too coarse: I need to add markings at incremental settings (1/4 open, 1/2 open, etc).
After 6 hours, the picnic looked pretty good, but was far from done: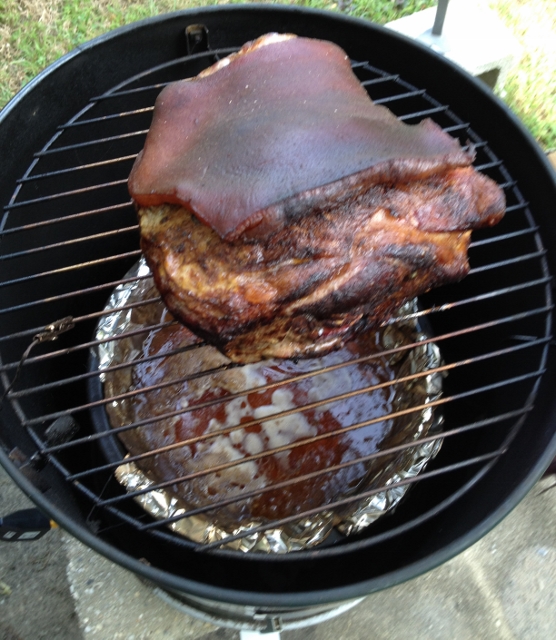 After 10 hours, some of the meat on one end was pullable (the internal meat temp was around 180 deg), so we "stole" a little to chop up for sandwiches (we were pretty hungry by then):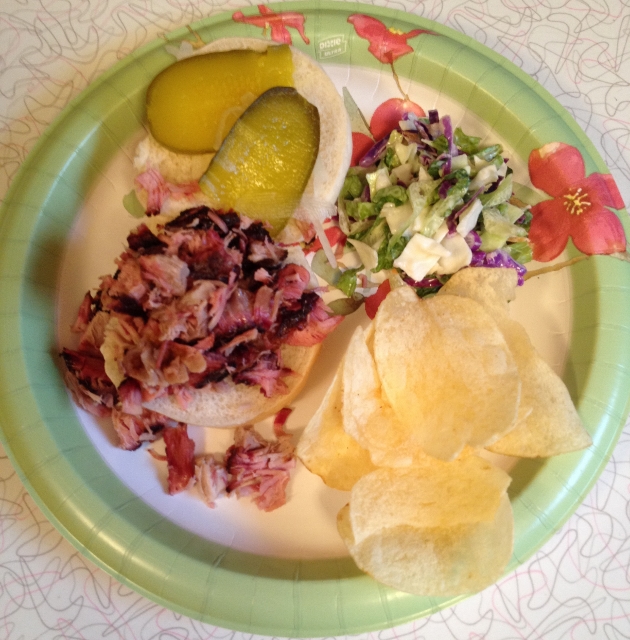 The meat was finally done after 12 hrs, and it was already dark. After an hour's rest, some meat was pullable and the rest had to be cut up. Also, some it was a bit dry and needed some Q sauce. The picture I took, late at night, was badly out of focus so I won't subject you to it).
The ECB mods seemed fairly successful, but a 12 hour cook was longer than I'd prefer. I only had to add fresh coat 3 times (the original Minion lasted just over 4 hours). Next time I may go for a small Butt or a couple of racks of ribs.
Has anyone tried brining a Picnic first or using any other tricks?