Moderator: TBBQF Deputies
Chuck Wagon
Posts: 2620
Joined: Sun Jul 08, 2012 2:58 pm
Location: Eastern seaboard
Contact:
Therefore, hot dog, cheese, relish, toasted bun, fries.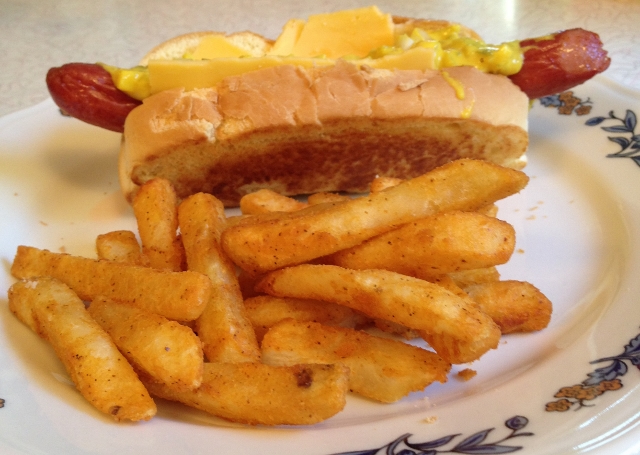 Shoulda served it in a paper boat.
Moink!
Outlaw
Posts: 1312
Joined: Sun Jul 02, 2017 10:14 am
Location: Arlington, TX
Contact:
You just put all the hot dog stadium guys to shame with that right there.
Bayou Classic Ceramic
PK (Portable Kitchen) Grill
Johnsons Ultimate Compact Patio Smoker
Yoder YS640 Pellet Grill
Outlaw
Posts: 1474
Joined: Tue Dec 10, 2013 7:57 am
Location: Baytown, TX
Contact:
That's what I'm talking about !!
Deputy
Posts: 6171
Joined: Sat Jun 30, 2007 9:40 am
Location: Oak Point, TX
Contact:
Assuming grandma's out in the Chevrolet........
tarde venientibus ossa....
Deputy
Posts: 10833
Joined: Sun May 15, 2011 7:09 pm
Location: Montgomery, Texas
Contact:
now, AFTER looking at that, I have to wait until 2pm "maybe" before we eat
Great
Plate
there Sailor
OUP

" Country by choice, Texan by the Grace of God "
Chuck Wagon
Posts: 3505
Joined: Sun Aug 02, 2015 12:37 pm
Contact:
Chuck Wagon
Posts: 4161
Joined: Mon Jan 16, 2012 5:34 pm
Location: Little Elm, TX
Contact:
That's baseball food!


Sent from my iPhone using Tapatalk
Chuck Wagon
Posts: 3041
Joined: Fri Jul 29, 2016 10:31 am
Location: New Zealand
Contact:
My kinda grub.

Russ
4 burner q
Honky hangi
Home smoker.

It costs nothing to be nice. A smile goes a long way.
Cowboy
Posts: 465
Joined: Sat Dec 08, 2012 9:35 am
Contact:
And this time I did the dogs indoors, in the air fryer after making the fries.
Deputy
Posts: 1756
Joined: Mon Apr 02, 2012 10:39 pm
Location: Lufkin, TEXAS
Contact:
What a game Sunday!!!!!!!!!!!!!!!!!!!!!!!!! Go Astros
---
Return to "The Outpost - Cooking any grub other than BBQ"
Users browsing this forum: No registered users and 2 guests