Moderator: TBBQF Deputies
Deputy
Posts: 1820
Joined: Wed Sep 15, 2010 10:30 am
Location: Richmond, Texas
Contact:
To our resident cooker construction guru, here's hoping you have the happiest of birthdays!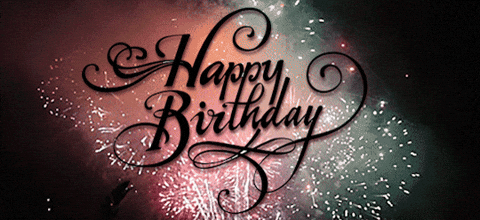 Custom 24x48 offset trailer pit
Weber Smokefire EX6
Vision B Series kamado
Outlaw
Posts: 1306
Joined: Thu Sep 15, 2016 6:19 pm
Contact:
Deputy
Posts: 16680
Joined: Sun May 15, 2011 7:09 pm
Location: Montgomery, Texas
Contact:
Hope your SPECIAL DAY is as SPECIAL to you as you are to the Members of this Forum.
Sorry about no candles, I couldn't find any Oak or Hickory Candles any where.
I am determined to sustain myself as long as possible & die like a soldier who never forgets what is due to his own honor & that of his country—Victory or Death. William Barret Travis - Lt. Col. comdt "The Alamo"
Chuck Wagon
Posts: 7133
Joined: Mon Jan 16, 2012 5:34 pm
Location: Little Elm, TX
Contact:
Sent from my iPhone using Tapatalk
Outlaw
Posts: 2355
Joined: Tue Nov 19, 2013 4:44 pm
Location: Cypress TX.
Contact:
Chuck Wagon
Posts: 4041
Joined: Sun Jul 08, 2012 2:58 pm
Location: Eastern seaboard
Contact:
Happy birthday, KAM!
Moink!
Chuck Wagon
Posts: 3815
Joined: Fri Jul 29, 2016 10:31 am
Location: New Zealand
Contact:
Bhappy born day here too kam, from the pacific.

Russ
4 burner q
Honky hangi
Home smoker.

It costs nothing to be nice. A smile goes a long way.
Outlaw
Posts: 1257
Joined: Thu Aug 04, 2011 2:07 pm
Location: Pacific NW
Contact:
Hoping you had a wonderful day KAM.
Happy Birthday to ya from the the Pacific NW.
Bill
Outlaw
Posts: 1318
Joined: Sun Jul 02, 2017 10:14 am
Location: Arlington, TX
Contact:
Happy birthday KAM.
Bayou Classic Ceramic
PK (Portable Kitchen) Grill
Johnsons Ultimate Compact Patio Smoker
Yoder YS640 Pellet Grill
Deputy
Posts: 3622
Joined: Sun May 31, 2009 7:10 pm
Location: Burleson,Texas
Contact:
Happy Birthday KAM, have a great one buddy!
How bout some more beans Mr.Taggert? I'd say you've had enough!
R & O Custom Trailer
Weber 22.5 Gold
Weber 22.5 Smoky Mountain
Oklahoma Joe Longhorn Edition
Limey BBQ Co. Competition Team
---
Return to "General Discussion"
Users browsing this forum: No registered users and 1 guest