I was going to get a WSM. Over the last few days I've been looking around around for them in various shops. I went to play around with one and you know what - there was one major issue I didn't like about it!
I'm 6"4 and 300lbs and those air vents at the bottom were just literally a pain in the butt to get to. I couldn't even
see
those bloody vents!
I'm doing low and slow BBQ very happily with my Weber kettle and my missus isn't exactly crazy about smoke flavor on
all
the food we BBQ.
So, I started to look at gas grills. I felt like getting a Genesis S320 but the darn thing doesn't fit our little patio too well. Or it does, but our big outdoor dining table wouldn't after a big Genesis.
So, to make a long story short - I ended up getting a Weber Q320.
I never ever used a gas grill in my life. I've always been a charcoal/wood man. Well, it took me about 45mins to build the thing up.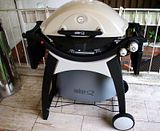 Turned it on and I'm amazed how quiet it is and that there is no smoke?!?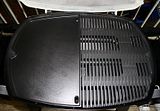 So what can I grill .. quick look in the fridge and I found some potatoes, onions, sausages and a lamb steak for my missus.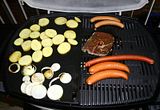 Trying to get used to the temperature controls and I was quite amazed how well my first ever grilling on a gasser went!
Amazingly it even tasted very good.
I'm quite impressed with the Q320. Very small size but still has decent cooking area. Obviously my main cooker will be my OTG kettle but for side dishes or quick sausages etc. this Q320 has definitely got it's place on our patio. Oh, and my missus really likes it as well!
Cheers,
Sterno