Moderator: TBBQF Deputies
Rustler
Posts: 201
Joined: Sun Sep 01, 2013 12:51 am
Location: Abilene, TX.
Contact:
I love it 4mfarms. Great work cant wait to see it painted
You only live once, so live every day as if it were your last.
Outlaw
Posts: 1927
Joined: Tue Oct 16, 2012 2:26 pm
Location: Huntsville, Tx
Contact:
Pilgrim
Posts: 43
Joined: Fri Dec 20, 2013 6:13 pm
Location: Boyd, Tx
Contact:
All I can say is WOW! Looks like that pit will be around for a very long time. Good work.
Pilgrim
Posts: 16
Joined: Sat Apr 18, 2015 8:12 pm
Location: Texas
Contact:
Great looking pit. Any pics of the finished project yet?
Deputy
Posts: 4092
Joined: Wed Oct 22, 2008 9:22 am
Location: Van Alstyne, Texas
Contact:
Wow! Lot's of talent there. I'm super jealous!
20" x 40" Party Gator Pit
48" Custom Firepit

I can't always please everybody. I'm not bacon.
Wrangler
Posts: 86
Joined: Fri Mar 01, 2013 3:17 pm
Contact:
Sorry folks it is taking me so long to get these final pics posted....been extremely busy with finishing my thesis for my M.s. degree, getting married in the middle of March, and starting a career with a good company and working my butt off!!! I snapped theses pictures back in mid March of the pit after it had already been put to good use. It is extremely efficient and burns steady at any temperature you decide. If you have any questions ask away or you can PM me if you would like!!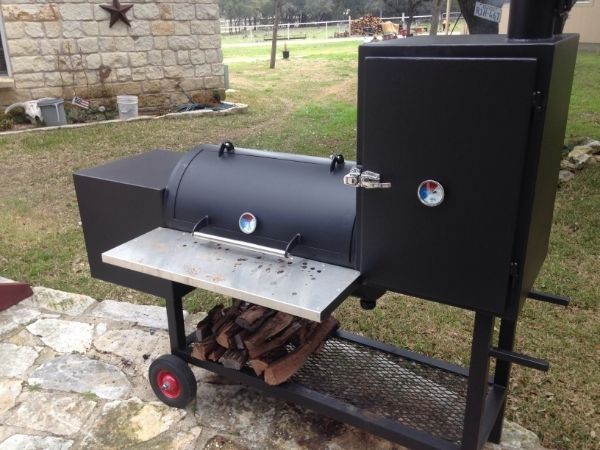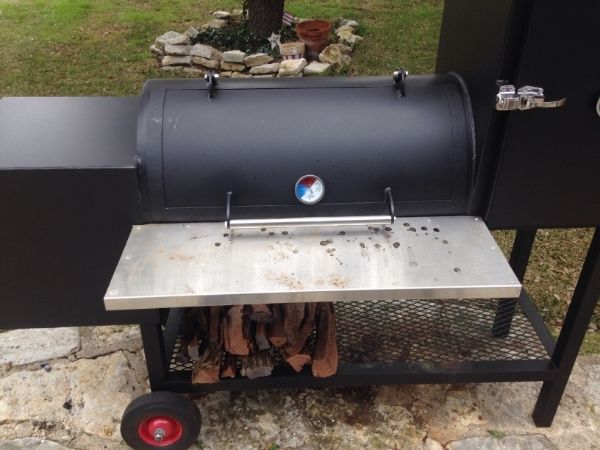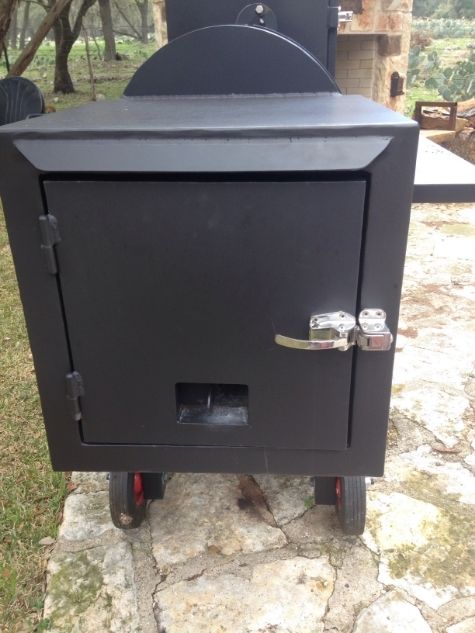 Thanks for following and THANKS for all the likes/comments!!!
Pilgrim
Posts: 16
Joined: Sat Apr 18, 2015 8:12 pm
Location: Texas
Contact:
Man that looks first class for sure. Great job!
Pilgrim
Posts: 9
Joined: Thu Feb 13, 2014 9:58 pm
Contact:
where did you find the slam latches and could I buy some of the half moons
Wrangler
Posts: 74
Joined: Sat Jun 22, 2013 7:33 am
Location: Orlando
Contact:
Nice work!


Making memories.
Pilgrim
Posts: 5
Joined: Mon Mar 28, 2016 10:46 pm
Location: Fort Worth, TX
Contact:
Love the build!

If you don't mind me asking, what is your opening size from your firebox to your cooking chamber? What about your intake size on the door. Seeing your build has made me stop and re-access the direction I was heading in.
If God wanted us to be vegetarian he would have made salad taste like steak
Outlaw
Posts: 1546
Joined: Tue Dec 10, 2013 7:57 am
Location: Baytown, TX
Contact:
---
Return to "Custom Built Pits, Build Your Own Pit & Pit Modifications"
Users browsing this forum: Baidu [Spider] and 2 guests