Moderator: TBBQF Deputies
Outlaw
Posts: 2231
Joined: Mon Jun 25, 2012 6:38 pm
Contact:
I am in the Harbor freight crowd. Please don't hate on me they are pretty quiet and run my lights.
Bandolero
Posts: 634
Joined: Sat May 31, 2008 5:02 pm
Location: Allen, TX
Contact:
We spent the dollars for two Honda 2000 and link em together. Super quiet and can carry on a conversation while standin over the things. However, when you are next to someone using a cheap generac or even the Champions (they aint that quiet folks) you think to yerself why did we spend the money! Most all of the inverter brands are quiet but they cost more too!
If you are next to us with one of those loud generators, the correct etiquette IMHO is turn the exhaust towards your own camp!!!!! Don't turn that exhaust towards me please.
Outlaw
Posts: 2231
Joined: Mon Jun 25, 2012 6:38 pm
Contact:
The little harbor freight is actually very quiet. Not whisper quiet but you can hold a conversation next to it when it's running. One of these days I may get ahead enough for a Honda but not now.
Cowboy
Posts: 285
Joined: Thu Aug 12, 2010 2:45 pm
Location: Round Rock TX
Contact:
I put the champion behind the pit and it wasn't that bad. I didn't keep me up in the camper and I couldn't hear it over the radio when we had it on.
It's not whisper quiet, but I am happy with how it ran.
Bandolero
Posts: 698
Joined: Thu Jul 18, 2013 8:09 am
Location: Brenham, Texas
Contact:
Onan ATW! I got almost 6500 hrs on my Onan 5500 and it doesn't smoke one bit. Starts right up. Had to do some TLC on her a few times like fuel pump, spark plugs, lash adjustment etc, but them are nearly full load hrs. Super quiet and just run forever. The small one are just as quiet as a Honda and last 3x as long. No matter what anyone says, run 15w-50 synthetic. Had a few run ins with straight 30 and other oils. Them gennys run a lot hotter than normal small engines.
Life has no remote control, get up and change it yourself!
Those willing to sacrifice liberty for security deserve neither - Benjamin Franklin
My $.02 is worth $37.50
Outlaw
Posts: 1157
Joined: Mon Mar 14, 2011 10:55 pm
Contact:
3 star redneck wrote:Arnie...that Champion 3500 is the best on the market for the money..Ive had 2 in the last 5 yrs.....they are very quiet and have an RV 30 amp plug built in and the Warranty is second to none....the first one had well over 5000 hrs on it running my big Rv before finally going down......You wont be disappionted with one I promise....
Wound up buying the Champion 1800 but it was to small to run my a/c so I exchaged it for that 3500/4000. Have used it twice now and its not Honda quiet but its not too bad either. Just cant beat it for the money. $300.00. Two of my cooker friends have owned those for a couple years and they have been dead reliable, it will do for now.
Thanks for all the replys.
SMOKIN' LONESTAR BBQ TEAM
on facebook: https://www.facebook.com/SmokinLonestar/
Hasty Bake Legacy
Pitts and spitts 24x48 stick burner
Napoleon Kettle
Weber bronze kettle
Traeger Pellet Pro 34
PK Grill for steak comps and fajitas at home
and then some
Bandolero
Posts: 698
Joined: Thu Jul 18, 2013 8:09 am
Location: Brenham, Texas
Contact:
Some pics from my last maintenance. You change the oil in a Onan regularly and exercise it once a month, it the comp world it will probably last you the rest of your life. Will prolly outdo 10 of those little overpriced inverter Hondas. 7000 hrs after our last cookoffs and beach vacation and doesn't burn a drop of oil between changes. They make cummins Onan all the way down to 2kw
Running like a champ
http://www.youtube.com/watch?v=nPctvLnkubg&sns=em
Spitting and spudderin, surging, overheating
Busting out the old faithful worm gear tranny jack
http://i897.photobucket.com/albums/ac17 ... 6A9A6C.jpg
Out
http://i897.photobucket.com/albums/ac17 ... 557BC7.jpg
Lash adjustment, new fuel pump, filter and rerouted fuel line to avoid vapor lock, plugs, wires, de sooted the muffler, carb clean and readjusted, installed, ran a can of seafoam through it, purrs like a kitten, ready for a few more thousand hours.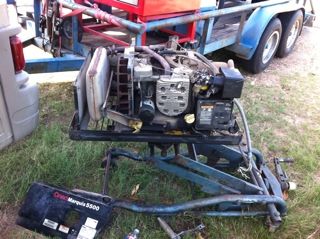 http://i897.photobucket.com/albums/ac17 ... 9FC49B.jpg
Life has no remote control, get up and change it yourself!
Those willing to sacrifice liberty for security deserve neither - Benjamin Franklin
My $.02 is worth $37.50
---
Return to "Competition BBQ Discussion"
Users browsing this forum: No registered users and 1 guest