So we've been experimenting with Jacques Pepin's method of half-nuking, half-baking potatoes: 10-15 minutes in the microwave, while your oven is heating to 425°; then 12-15 in the hot oven, depending on the size of the spud (we were finding a need to run the taters in the oven for up to a half hour).
All potatoes used have been fairly biiig Idahoes.
Yesterday we ran an experiment and baked the potatoes in the oven all the way, with our usual method: 450° for 20 minutes, and only then pierce with a few holes, and reduce oven temps to 400°and continue baking for another 40-45 minutes. Seems to work better in eliminating hard, undercooked interior spots than piercing at the start.
This is strictly subjective, but we found the half-nuked potatoes to have a creamier interior, while lacking the true oven crunchy skin, whereas the interior of the oven-only bakers was fluffier, lighter.
Potatoes dressed with pepper creme dressing. This one had bleu chez sprinkles. The 'sides' in this case were turkey thighs previously done in the slow cooker (hey! it was a tough winter here!), and mixed vejables steamed in butter.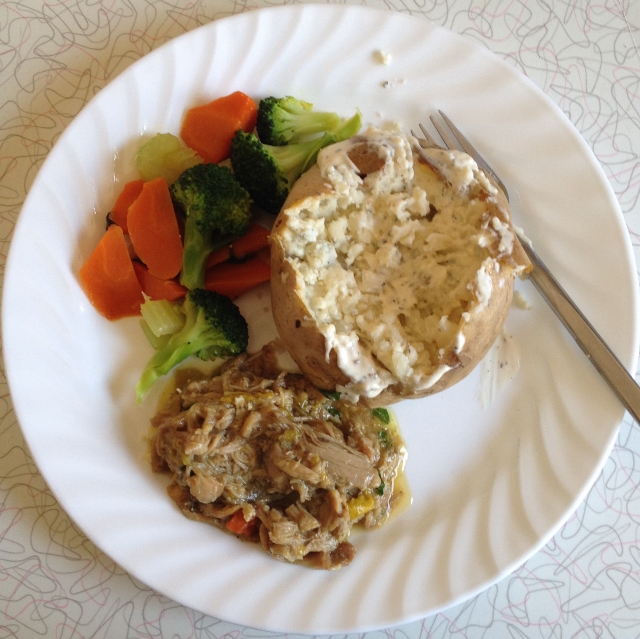 Next potato experiment will probably be half-nuking Yukon Golds, then slicing and pan-frying. Stay tuned.