The sausage making bug hit last week. It had been too long since I have made any. Quickly settled on two kinds, Jimmy Dean style and cheddar brats. Started off with 10lbs of pork butt from Hirsch's in Plano
Ground that all up
Mixed in the spices and let it sit overnight in the fridge. Got it out the next morning and fried up a batch to taste to see if it needed adjusting. Then stuffed it into 21mmm collagen casings. I used these one from Academy.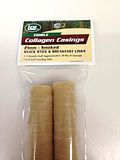 This was what 4lbs netted me (1 lb was kept in bulk)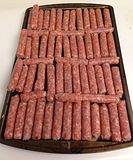 Simple to cook up, just pop it in the oven at 350F for about 15 minutes or until it reaches 150, turning halfway through and you've got this.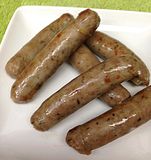 The sausage was really good. I think I added too much sage, but the wife and a co-worker thought it was really good. The recipe I followed is from a guy named Kevin P on the Smoke Ring Forum. He really knows his stuff when it comes to sausage.
Jimmy Dean-like Breakfast Links
•5 lb pork butt, ground
• 36 g kosher salt (about 5 tsp)
•1.0 g ground sage (little over a tsp)
•2 g red pepper flakes (add more to your taste)
•2 g thyme leaves (little over a tsp)
•3 g black pepper (1.5 tsp)
•2.5g ground coriander ( (little over a tsp)
•Optional: 1/3 cup real maple syrup**
**I find it too sweet & don't add it.
•20-24 Sheep casings(or make a large chub to slice!)