Mrs. G and I actually made these up a few weeks ago, but by the time we were done, we didn't feel like cooking any of them up, let alone eating any sausage. We stuffed about 12 pounds of sausage that day, 6 lbs of brats and 6 lbs of Russian Sausage. Let me tell you, a dedicated sausage stuffer is on my Christmas list now, possibly a Dakota.
Started off by grinding up our pork butt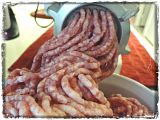 Mixed in our seasonings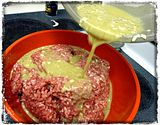 Stuffed the casings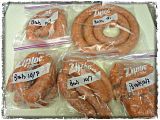 We first got to try it down at the river this weekend. On the Mini Egg at 350F with some apple wood chips for smoke.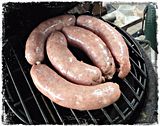 Amost done
Finished
Look at all that juice!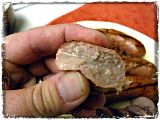 We were very pleased with our first attempt at Bratwurst. They had a great flavor, were nice and juicy and had a good snap from the hogs casing. They weren't exactly like a Johnsonville (that's not what we were aiming for), but more like the ones we got in Germany in August. They had a finer texture (due to the grinder attachement we used) and a richer flavor due to the eggs and milk. Good stuff for sure.
The recipe can be found
HERE
if you are interested plus more pics and the rest of the story.