Because man can not live on BBQ alone, I made some cookies last night on the Egg. Why you ask? Why not? These can easily be done in the oven, but I was going to have to light the Egg for dinner anyway and I had a coupla hours before Mrs. G got home.
On to the Egg at 400 F, place setter legs down, 3 lil spacers and then the cookie sheet on top of that.
Ingredients
■2 1/4 cups flour
■3/4 cup granulated sugar
■3/4 cup brown sugar, packed
■1 tsp baking soda
■1 tsp salt
■1 tsp vanilla extract
■2 sticks butter, softened (1 cup)
■2 large eggs
■2 cups semi-sweet chocolate chips
■1/4 cup Heath Bits 'O Brickle Toffee Bites
Directions
1.Set up Big Green Egg at 400F, place setter legs down (or preheat oven to 375)
2.Using a stand mixer, beat butter, granulated sugar, brown sugar and vanilla extract until creamy.
3.Add eggs and continue to mix until mixed in.
4.In another bowl, mix flour, salt and baking soda. Gradually add to stand mixer.
5.Add chocolate chips and Heath and mix until well blended
6.Spoon onto ungreased cookie sheets making each cookie about 1 tbsp
7.Bake on the Egg for about 12 minutes (9 to 11 for oven)
8.Cool on cookie sheets for a few minutes and then allow to completely cool on wire racks
9.Enjoy with a cold glass of milk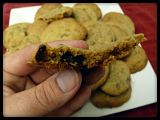 Get me a glass of cold milk to dunk these in. Man were they good. Really hit the spot after dinner. The downside - it seems like 8 was about the most I could put on a cookie sheet. The recipe made a little over 3 dozen cookies. How many batches is that? You do the math.
Heath Chocolate Chip Cookies