This weekend, DH and I went to a fountain pen show that was held on Saturday and Sunday. April Fool's Day dawned raw and rainy, today was supposed to be nice.
We went on the rainy day, and were happy enough to be somewhat recovered from the show so we could grill some rollups on the NICE day.
Chicken breasts, split, pounded, stuffed with green pepper (which I skin before dicing), chopped green onion, chopped white onion and slabs of jack and Munster cheese. Then manipulated with the aid of plasic wrap until each looked sorta like a roll, and gift-wrapped in bacon.
Some ground chuck got rolled into two thin patties and treated to the same stuffing and wrapping. Done on gas 'for simplicity's sake' and because we're not yet set up for coal, but...
We tried for 350°. Due to windy conditions it was probably closer to 325°. Ran into temp troubles when we ran out of gas. Had to change tanks in the middle of the cook. Grrr. The rollups were treated with a glaze of some fairly spicy 'Memphis' sauce once the gas was running again.
Ready for cooking: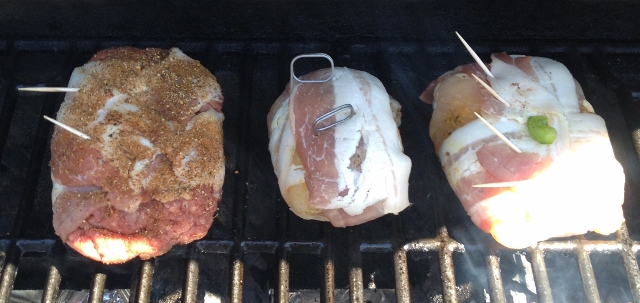 Finished, plated, with confetti slaw (lettuce, red cabbage, carrot and whatever peppers and onions didn't fit in the rollups) and 'smashed' ranch potatoes (yellow taters half-nuked, broken apart, dressed with olive oil and ranch seasoning, then baked until crisp).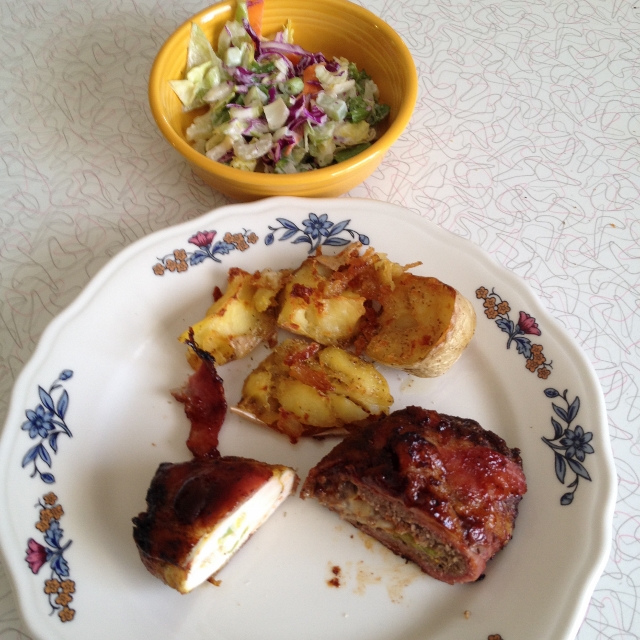 This was a learning experience. Some of what we learned:
Plastic wrap is your friend.
Chicken breasts need to be pounded thinner than I was able to.
Don't do hamburger negimaki at the same time you do chicken.
Let the potatoes cool before you break them up, and use way less oil.
We need more of those metal holder thingies. Lots more.
Don't run out of gas in the middle of a cook.
Devices that tell you how much gas you have left in a tank are worthless.
First time we ever tried this, but it won't be the last. You gentlemen are an inspiration!