Thought I'd share a couple more pictures of what we normaly cook on around the house and for church groups and such. This one resides in the backyard and handles all the grilling chores and will do a pretty good Q with a little adjustment. Still want to hang a fire box on the left side.
Note to self...."Clean up backyard before taking picture."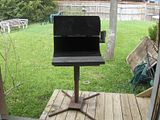 A friend of mines son built this his freshman year in high school I get to use it too
[
Cooking our Church group a few country style ribs along with a nice pork loin and a few sausages. Did'nt take any pics this year I gotta get back in the swing of things now.